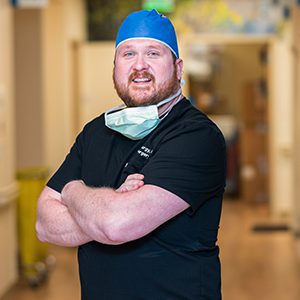 Dr. John Amburgy
Originally from Columbus, Ohio, Dr. John Amburgy moved to Clearwater, Florida when he was five. He realized his interest in neurosciences at an early age after a family member became one of the first people in the Tampa Bay area to undergo stereotactic radiosurgery for metastatic brain tumors. After discovering his passion, he focused his educational career towards neurosurgery.
Dr. Amburgy played football at Princeton University where he was named the Ivy League Rookie of the Week in 1997. He graduated with a degree in Political Science with a focus on the Pre-Medical Curriculum in 2002. Afterwards, he received his medical degree from the Medical College of Georgia in 2012. From 2012-2021, he completed his neurological surgery residency at UAB. During his time at UAB, Dr. Amburgy conducted many research projects including topics on neurological trauma, football helmet impacts, and comprehensive concussion impacts.
He is currently a member of the North American Spine Society, the Alpha Omega Alpha Honor Medical Society, and the American Medical Association. Over the years, he has received several awards and honors including the James Garber Galbraith Resident Prize for Top Resident Research Presentation in 2016 and 2017, NIH R25 Awardee– MRI & Video Analysis of MTBI in Collegiate Football Athletes 2017-2020, and the Griffith R. Harsh III, MD Resident Prize for Research in 2020. Dr. Ambury is also a published author, contributing chapters to the Neurosurgical Operative Atlas: Vascular Neurosurgery.
Dr. Amburgy joined Swaid Clinic in 2022 and is currently accepting new patients. He is an expert in Cervical, Thoracic, and Lumbar surgery, Cranial surgery, traumatic brain injuries, brain tumors, Trigeminal Neuralgia, Carpal Tunnel, Arteriovenous Malformations, and Aneurysms. In his down time, he enjoys watching basketball and playing chess.