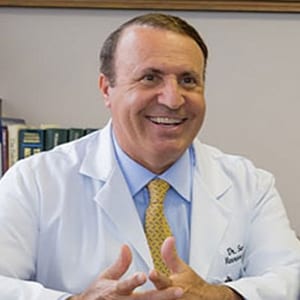 Swaid N. Swaid, M.D., F.A.C.S.
Dr. Swaid Swaid was born in Eilaboun, Galilee in 1952. He came to the United States in 1969 to attend Harding University at age 16. He graduated Summa Cum Laude from Harding University in 1973 at which time he came to Birmingham to attend UAB Medical School. He received his Doctor of Medicine degree Cum Laude from University of Alabama in Birmingham Medical School in 1976. He then moved to San Diego, California where he completed an internship in general surgery. He returned to Birmingham in 1977 and completed his residency in neurological surgery at the University of Alabama at Birmingham Medical School, where he was chief neurosurgical resident.
Dr. Swaid is board certified by the American Board of Neurological Surgeons, a member of Alpha Omega Alpha, and a Fellow of the American College of Surgeons. He has held numerous positions including Medical Director of CyberKnife of Birmingham, Chairman of the Department of Surgery at Brookwood Medical Center, Chief of Neuroscience Division at Brookwood Medical Center, Chairman of the Neuroscience Division at HealthSouth Medical Center, and Medical Director of HealthSouth Medical Center. In January of 2008, Governor Bob Riley re-appointed Dr. Swaid as the Chairman of the Certificate of Need Review Board for the State of Alabama. He continues to serve on the Certificate of Need Review Board.
Dr. Swaid maintains a busy, private neurosurgical practice in Birmingham. He specializes in cranial surgery, radiosurgery, treatment of Trigeminal Neuralgia, and cervical spine disorders. He has treated patients from all over the world who have sought him out to treat their complex brain and spinal conditions. Having performed surgery on many physicians across the southeast, Dr. Swaid remains the doctor's choice for neurosurgery.